The Everygirl's product selections are curated by the editorial team. If you buy something through our links, we may earn an affiliate commission, at no cost to you. We only recommend products we genuinely love.
When August slips by (like a bottle of wine), there are two types of people in this world: 1) Those who wish they could time travel back to June to keep soaking up the summer sun and 2) those who want to skip right to spooky season and pumpkin-flavored everything. Here at The Everygirl, we're in camp number two. Once mid-August rolls around, we are ready for everything that autumn has to offer—especially when it comes to style. We've already started stocking up our closets with new fall fashion finds and pulling out our favorite pieces from last year. Take a peek inside our closets to see what we'll be sporting this season:
Vionic
Elodie Loafers
I chickened out on buying a pair of chunky loafers last year and it's one of my biggest regrets of fall 2022. After seeing Pinterest girl after Pinterest girl styling chunky loafers with crew socks, skirts, jeans, and oversized sweaters, I'm finally pulling the trigger and adding this pair from Vionic to my cart.
I love the gold detailing and with a cushioned footbed, I know these will be my office-to-date-night shoe all fall and winter long.
—Ashley Selleke, Brand Partnerships Manager
3 colors available
Abercrombie & Fitch
Vegan Leather Blazer
I love the look of faux leather for fall (Leather? For fall? Groundbreaking.), but a structured blazer tailoring seems so much chicer than a regular leather jacket to me. It's the perfect combo of edgy-cool and sophisticated, AKA I feel like my best self when I'm in this jacket. I love it over dresses to transition into fall, and with layers and jeans on colder days.
—Josie Santi, Wellness Editor and Podcast Host
2 colors available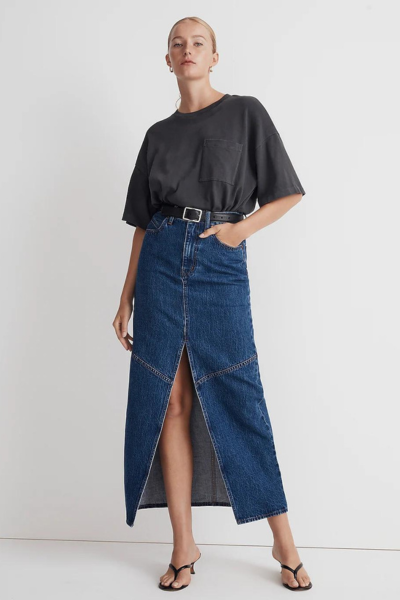 Madewell
Denim Maxi Skirt
I'm obsessed with the denim maxi skirt trend going on right now and once the temps start to drop, I'll be sporting this dark wash one from Madewell. Not only does it have pockets (!!), but I love the eye-catching slit in the front that doubles as both stylish and functional.
—Christina Herbst, Branded Content Editor
Old Navy
Fitted Rib-Knit Turtleneck
I love having an assortment of fall basics that I can mix and match for a layered look. This rib-knit turtleneck is part of my regular rotation of outfits because the fit is just so flattering. I'm excited to style it this fall with a blazer or a heavy-knit cardigan on top.
—Jessica Friedhoff, Lifestyle Editor
8 colors available
Mango
Wool Double-Breasted Coat
The perfect tailored jacket easily completes any outfit and the greenish-grey of this one has me counting down the minutes until coat season. The quality is absolutely fantastic. I can't wait to pair it with a turtleneck bodysuit and jeans for a casual but put-together look.
—Ally Pagar-Wolf, Chief of Sales and Marketing
3 colors available
Tentree
Cloud Shell Puffer Vest
I am a puffer vest girl through and through, so in the fall, I will basically do anything to make any outfit work around this one piece. Paired with a long-sleeved tee, a light pair of jeans, a beanie, and my Birkenstocks? I'm as basic as it gets.
—Hailey Bouche, Assistant Editor
5 colors available
H&M
High-Waist Dress Pants
As a Texas gal, we don't get to experience the magic of fall until the year is almost up. So I'll be spending the next three months sweating and dreaming of styling these dress pants with a cute vest and blazer combo.
—Steph Alleva Cornell, Branded Content Editor
Quince
100% Organic Cotton Fisherman Crew Sweater
Come fall my top priority is being as cozy as possible, which means I am living in sweaters all season long. This basic crewneck from Quince is the perfect elevated basic to stock up since they have a bunch of different colors. I'll be wearing them with my jeans and long trench coat from now until spring.
—Garri Chaverst, Senior Managing Editor
11 colors available
Dickies
Women's Unlined Eisenhower Jacket
I'm loving the workwear trend lately, so when transitional fall weather comes around, it's the perfect time to pull out my beloved Dickies jacket. I sized up so I can layer it on colder days, but it's still light enough to wear on its own when I only need a single layer. I truly cannot think of a more versatile jacket for fall, and I'm already looking forward to dressing it up with tights and a mini skirt or dressing it down with a hoodie and some leggings. The best part? This jacket is meant to last a lifetime as it only looks better with time as you continue to break it in.
—Bella Gil, Editorial Fashion Assistant
3 colors available
Polo Ralph Lauren
Denim & Chambray Sport Shirt
I'm all-in on the denim-on-denim trend that's happening this year, and have been on the hunt for the perfect denim shirt to pair with my favorite jeans. This one is a similar wash to most of my jeans, and I sized up to make it chic and oversized. My fall uniform is going to center around this and my beloved Birkenstock clogs, guaranteed.
—Maddie Galassi, Fashion Editor
Everything That's on Our Fashion Editor's Wishlist for Fall
This post contains a sponsored inclusion of Vionic but all of the opinions within are those of The Everygirl editorial board.